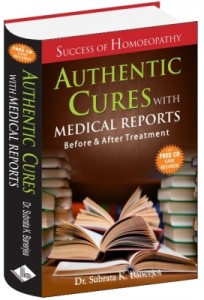 Reviewed by Dr Firuzi V Mehta
B. Jain Publishers (P) Ltd.
ISBN 978-81-319-1913-2
First Edition: 2012
Paperback
Pages 439
Price INR 449/=
Dr Subrata K Banerjea is a homeopathic physician of international repute, a lecturer and an author with clinical practice both in England and India. Coming from a family of several generations of homeopaths, Dr Banerjea has written a number of books imparting his remarkable knowledge especially focussing on miasmatic prescribing.
This book is a collection of 74 cured cases described in detail and 101 short case stories.
The detailed cases cover the different body systems: Cardio-vascular diseases, Dermatological diseases, ENT diseases, Endocrinological disorders, Gastro-intestinal diseases, Gynaecological diseases, Uro-genital diseases, Neoplastic diseases, Neurological diseases, Psychiatric disorders, Respiratory diseases, Rheumatological diseases and Urological diseases. The short case stories are interesting to read since they highlight the reasons for the choice of the remedy.
In recent years, there has been a lot of confusion about case taking methods. Several homeopaths have developed their own methods of analysing the case and selecting the right remedy. There are differences in interpretation of the Organon of Medicine, sometimes in accordance with the needs of an individual method. Apart from difficulties in remedy selection, there are ever prevalent issues of potency selection and repetition which are always subjective for different practitioners who claim excellent results with even drastically differing methods.
Homeopaths have often resorted to creating their own favoured methods but often, what seems to work for one does not work for the other. A multitude of cases of homeopathic cures are published in the many homeopathic journals every year but only a few of such cases give a complete understanding of the author's methods.
In such a scenario, Dr Banerjea's book comes like a breath of fresh air. Dr Banerjea has outlined the structured approach that he follows and has even referenced the information wherever relevant. All through the book, there are references to the relevant aphorisms of the Organon of Medicine from which he has sourced his methods which are in perfect resonance with classical homeopathy. Due to his practice both in India and England, he has experience with patients of widely differing backgrounds, cultures and ethnicities. Despite these differences he has concluded that all patients will respond to careful enquiry that will then ensure the most correct prescription. Dr Banerjea lays great emphasis on a thorough case taking and this is clearly visible in all the cases described in his book.
As we read the book, Dr Banerjea's method becomes clear in our minds. His approach for every case includes:
M Miasmatic totality
T Totality of symptoms
E Essence which includes temperament, posture, behaviour
K Keynotes which should cover peculiar and rare symptoms
Priority is given to ascertaining the cause of symptoms.
Dr Banerjea describes the differences in approach that are needed for cases with and without clarity of symptoms. He highlights how a head to foot miasmatic assessment of the case is done. This is a very welcome aspect of the book since the topic of miasms is often confusing for both students and practitioners. Homeopaths with no clear understanding of miasms often ignore them and this often leads to superficial prescribing and hence recurrence of ailments or progression of the disease.
Each of the 74 cases illustrated in the book gives an in-depth explanation of how the miasmatic analysis is done for the case and how the remedy covering the miasmatic background.is chosen to cover the miasm.
Today most homeopaths have patients who are already on conventional medicine treatments. With the suppressive action of allopathic drugs, the symptom picture of the patient is modified to a great extent and the original unmodified picture that we need for homeopathic prescribing is often missing. Dr Banerjea describes how he treats such patients initially which results in the possibility of weaning off the allopathic drugs so that clear symptoms arise for the further in-depth homeopathic treatment.
Dr Banerjea gives details about his remedy dispensing method in water which has the advantage of avoiding aggravations and permits strong dynamic penetrating action.
Of great interest is the fact that he often allows his remedy to work undisturbed for a number of months especially in chronic cases. He emphasises his belief, that we never gain anything by premature repetition.
Each of his 74 cases begins with
Presenting Complaints
Investigations before and after the treatment
Case analysis, Miasmatic diagnosis and Basis of the final prescription
Remedy Reaction
Prescription chart giving detailed follow-up and treatment at each step.
The cases are accompanied by images of the medical reports and photos of the patient especially in skin ailments. One drawback is that the print of the reports is often too small to be read, but this is remedied by the free CD that comes with this book. Every case in the book is followed by a reference to the location of the details of the case in the accompanying CD.
A few negatives for the book – paper quality could have been better and the first two pages could have been better printed to look less like photocopies! A few typographical errors have crept in at different places in the book.
Overall, however, it is an excellent presentation of good homeopathic cures that will boost the confidence of homeopaths to use the classical method for all cases, even ones with deep pathology. A book well worth the price.
As Dr Banerjea writes in his Preface, this book is a celebration of what Homeopathy can do!
(First published in The Homoeopathic Heritage, Vol. 39, No. 03, June, 2013 & published at hpathy.com in July 2013)